Our Experience
Big J is credited with providing simulation and training support for three nationally recognized union and DOT-endorsed signal schools. We have also worked with, become familiar with, and provided simulation and training internationally for over 140 freight and transit railroads and three major signal equipment manufacturers in the last decade.
Big J staff not only help teach the craft of signaling but also provide signal consulting services and are actively providing maintenance and inspections on key railroads. Our efforts in this area subject us to the same FRA/APTA and DOT requirements as our clients, providing insight and relative training support that is in stride with the current signal industry demands. So when you talk to Big J you are talking to seasoned, in-service signal support providers. This sets a very qualified and informed approach to all of Big J developed and provided equipment and services that is very hard to compete with.
Our Workmanship and Quality
All of our simulators are handcrafted, ensuring that each customer's desired points of impact are addressed. In fact, Big J has been tasked with the rebuild and repair of many other manufacturers' simulator attempts.
In 2009, the inevitable occurred. Big J enjoyed more than nine years of boasting flawless simulator and training equipment development without a single product return. But Big J Signal was finally called upon to stand behind one of its products. A Big J complex training simulator design group was returned for re-work due to failure to meet and deliver the intended and advertised operations. Stand behind and deliver is exactly what we did! The returned simulator's problems were isolated, addressed and eliminated, and the repaired simulators were returned to our customer. Did we do well, and why are we proud of this? The very same customer returned in 2010 to order more of the same product! Big J turned this failure into one of our finest successes. Yes, we are proud that we were tested and scored a perfect score in this previously uncharted area of familiarization. We are now striving to beat our previous record of nine years without a product failure. I would bet on Big J in this race!
When shipped, all of our simulators are placed in bubble wrap and double boxed or fixed in custom built crates.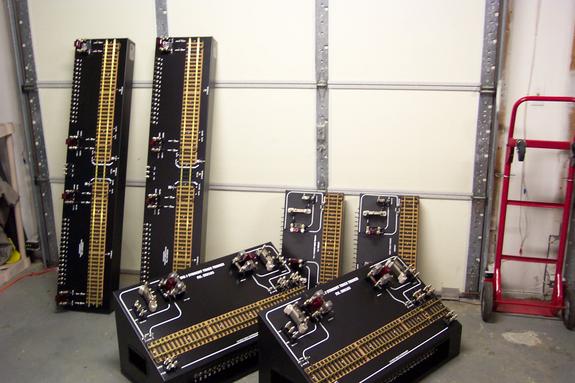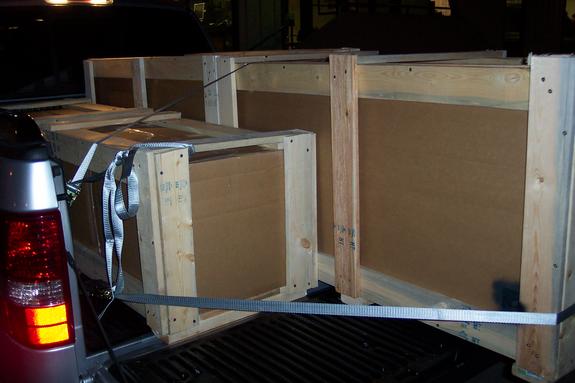 Pictured: Good packaging and careful shipping by Big J of our finished products.